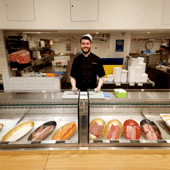 Andrei Postelnicu
Fish & Meat Multi site Supervisor and Trainer – Kitchen
In 2017 I joined the company. One of the perks of working in Japan Centre Group is the opportunity for career progression.
In the span of 6 years, I am proud to say that I started as Kitchen Assistant, was then promoted to Fish and Meat specialist, then to Supervisor, to Kitchen Manager, and now Multi-sites Supervisor/ trainer.
You have the opportunity to learn new things. It is all about the experience, the challenge, and the people.