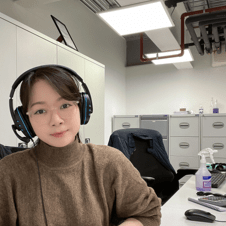 Wein Ng
People and Talent Assistant – The People Team
I completed my studies in International business in University. But like many, was left unemployed for quite some time... I did some volunteer work just to build my CV. I applied to so many graduate schemes, internships, entry-level admin jobs, but was always turned down due to lack of experience. It was so bleak... for so long... 
And so my journey in hospitality begins - an easily accessible starting point.
In 2019, I joined Shoryu Ramen as a waitress.
As with all hospitality roles, peak season can be extremely challenging.. but I have very fond memories of working in the restaurant, there were tears, laughter - and it's these memories that you miss, cherish and cry over the most once you move on later in life. 
I have made unbreakable bonds and so many close friends. I met so many different kinds of people, and it's just PRICELESS. 
Now, here I am. People and Talent Assistant of Japan Centre Group, bringing together new friends and colleagues in to the company.
Join us today and let's start a journey together.