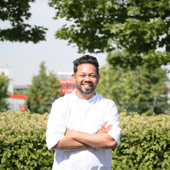 Ashan Fernando
Bakery Manager – Bakery
From Sri Lanka to the Japan Centre - A journey in bakery discovery & creativity
I started my bakery career in Wattala, a busy town in Sri Lanka, I didn't realise at the time but it was to become my passion and my career.
I arrived in the UK in 2009 and worked for a large supermarket chain where I learnt the traditional bakery craft. From a part time packer position - I completed the bakery apprentice scheme and went on to become a craft baker and then bakery manager, managing large bakeries across north London.
In 2018 I joined the Japan Centre Group - and I have never looked back.
An exciting, innovative and progressive company that has given me the opportunity to learn new skills about Japanese bakery along with the freedom and encouragement to develop a whole range of new products.
We take pride in our Melon pan, Curry bread & other traditional Japanese items. But we also love to innovate and fuse cultures with amazing products like Matcha and belgian white chocolate cookies, also Sakura bundt cake & hot cross buns - all with a Japanese twist.
Japan Centre is inspirational & full of authentic flavours - I am so proud and pleased to lead the JCG bakery - I couldn't do it without my amazing team.