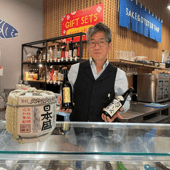 Hiroshi Kumagami 熊耳弘司
Sake Advisor / Promotions – Wholesale
Qualified as a Kikizakeshi (sake sommelier), I joined Japan Centre Group in December 2022 as a Sake Advisor. I am keen to impart the world with the magic of sake.

Prior to this, my experience includes working in a global logistics company, and a number of cozy Izakaya all over Japan, Asia, UK and Europe.

The Japan Centre is the place that rocked my heart completely because of the people, their values, growth and development opportunities, support, empowerment, and the sharing of success.

I am an endless practitioner of cooking, fresh water fishing, sun soaking with a glass of bianco, and travelling. I have a passion for movies, manga, New age jazz, low tempo techno & club music, British Rock and more.